New to the site, hope this is the correct place, mods feel free to move if I've dropped one!
After many years of trying I convinced my mates to go in on a track car together. After asking advice on retro rides we looked at MX5 and 205 etc since as bangs for bucks they are hard to beat. The two of them decided after seeing Westfield/Sevens that if we had a track car it had to be one of those.
So after looking around found even a Robin Hood or Locost was out of price range so like a lot of buyers ended up looking at Duttons, which no offence intended, is not most attractive of the sevenesque cars. Following some assistance from retro rides we went looking and eventually bought this: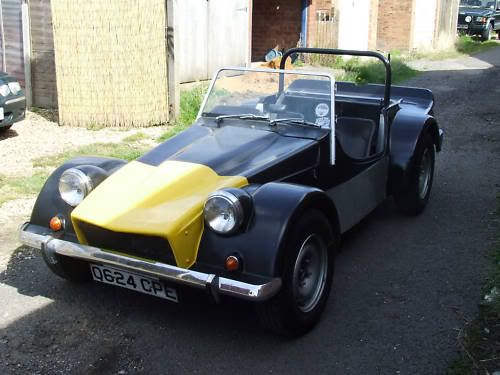 It was on ebay but local. Sadly due to work I never got to see it so Dan went to inspect with his many years experience of washing cars and driving them about a bit. An offer was made and we collected one evening and dropped for MOT the following day.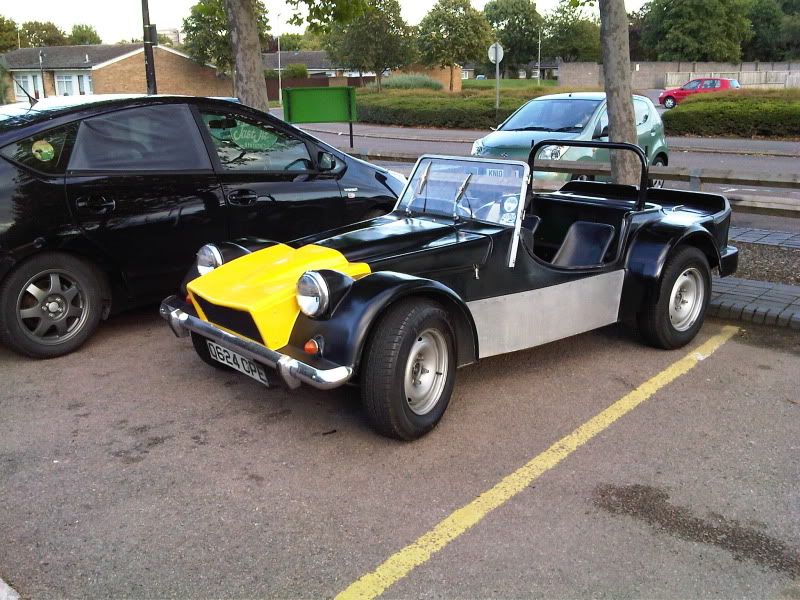 Had an hour in the car park to do checks. Found that the flashers weren't and one indicator bulb out. Dash to Halfords for new flasher and fault tracing wiring and then had to leave the defective handbrake to be looked at by garage before the MOT.
On the plus side we thought they won't fail the brakes if they've just rebuilt.
Some discussion with MOT man on whether it needed door mirrors or not. Came with only a single mirror mounted on the dash in the middle. Conclusion was it needed a drivers side one so slung this on before the test, spare from my MGB. Screwed to the dash so I didn't have to mess up the bodywork. Will fit proper ones both sides once able.
You can just see the ghetto switch labelling as well. Car doesn't have hazards or a reverse light but checked online that seems to be OK.
Initially thought car was based on Mk2 Escort, later found likely Mk1. Front suspension has Koni shocks, not sure what else the bits are off yet. Has had a recentish rebuild and spec is:
E 1300 GT engine, gearbox overhaled and new diff. Unleaded head by Burton Tune.
Black paintwork.
Tiny steering wheel
Really high clutch pedal (will need looking at)
Tiny pedals really close together on RH side of column. May live with it or may see what can be done about moving clutch across to LH side and fitting wider brake to enable left foot braking if I even learn it.
Steel wheels
Tiny boot
Two plastic seats bolted to floor (no adjustment)
Static 3-point belts (will want harnesses for track)
Old style bullet fuses (will look to upgrade)
Heater (wo-hoh)
Fairly sound car but electrics need looking at as with any old car.
Has doors and a new roof but no studs fitted yet.
Also one of those weird covers that goes over at dashboard level and unzips either side for the driver.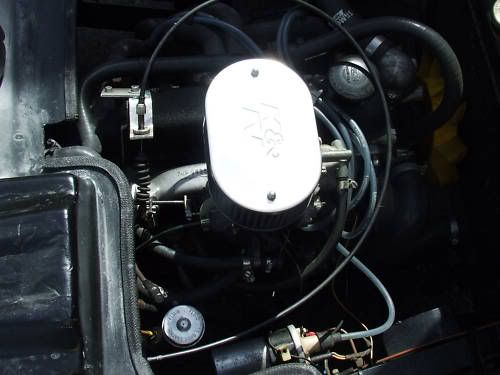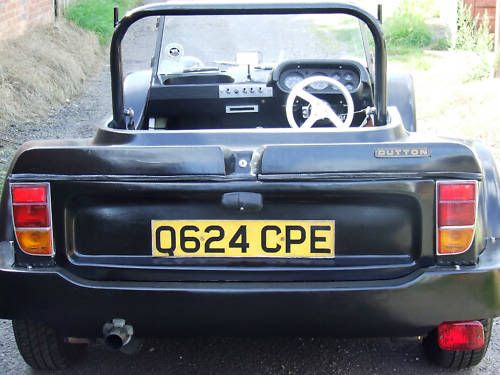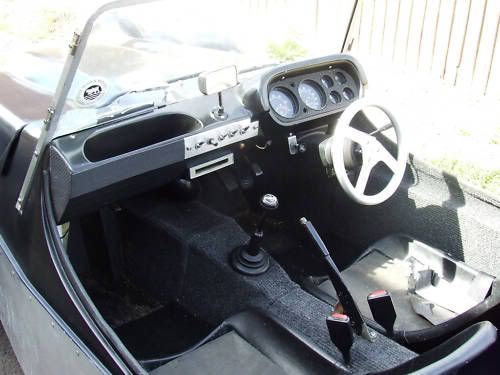 Sadly first garage refused to test as was too low for the ramp (later leant they actually meant MOT tester too fat to fit).
Took around corner to another garage who failed it on handbrake, split gaiter on rack and headlight out.
We collected and spent a week sourcing parts. Initially ordered all Mk2 Escort parts but then once found likely Mk1 had to re-order a load more brake shoes and cables!
Evidence of Mk1 -
Front brakes are drum
This is what happens when you send non-car person to inspect car for you!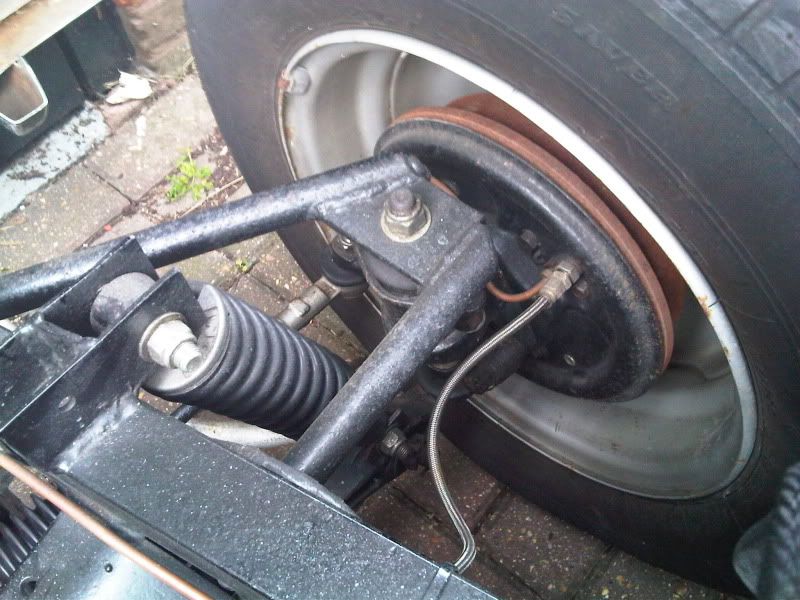 We replaced gaiter with universal one. Runs very tight to the frame at front.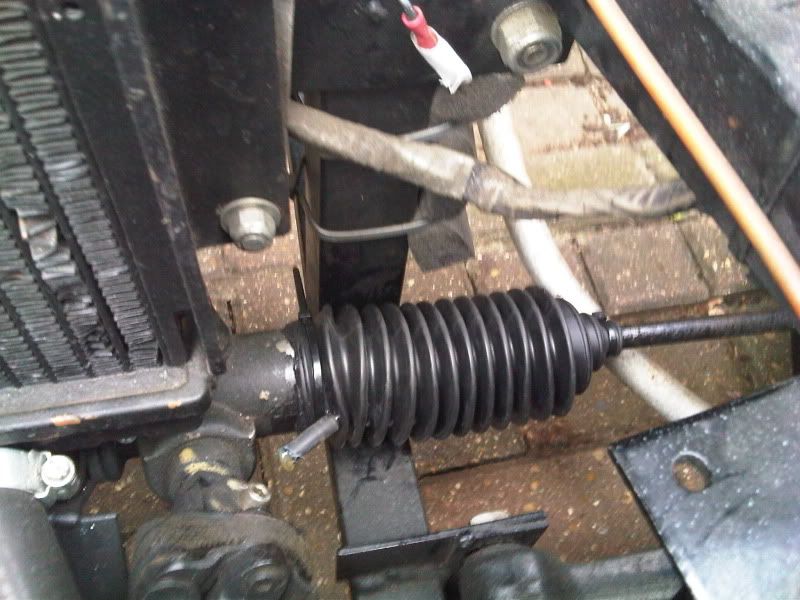 Also found it's dynamo rather than alternator. A first for me.
Front hinge mechanism and bumper attachment. Most Dutton do away with any form of metal bumper, still undecided at moment. Also if Mk1 Escort presume worth selling before we bend it? Four bolts undo to release the nose cone at present may look to make easier.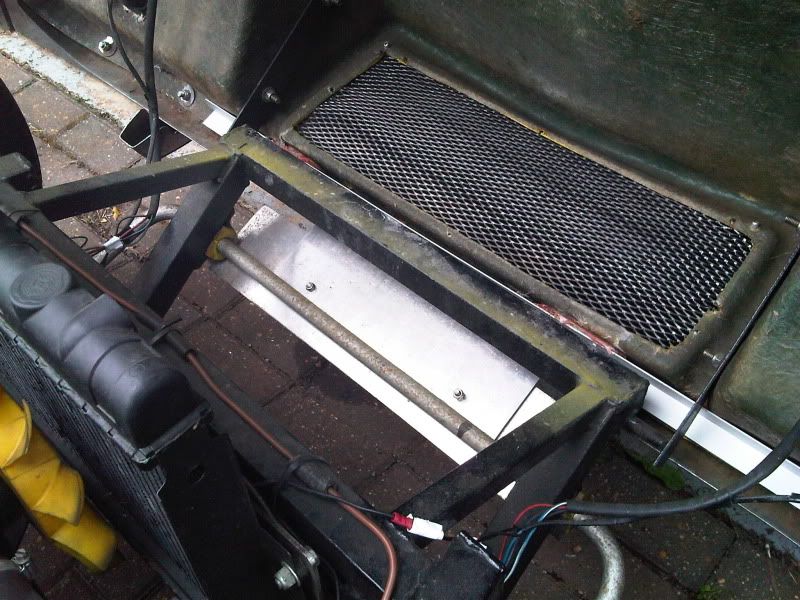 Example of the electrics, white tape by me to hold together for MOT, way too many loose crimps at present will look to redo into proper unpluggable multi plug to allow bonnet removal.
Webber carb and original viscous fan. Keeps it simple but may look to go electric to release a horse or two.
Original bullet fuses, don't like it in the engine bay where a falling fuse is lost for ever, will look to replace with blade fuse either with cover or relocated.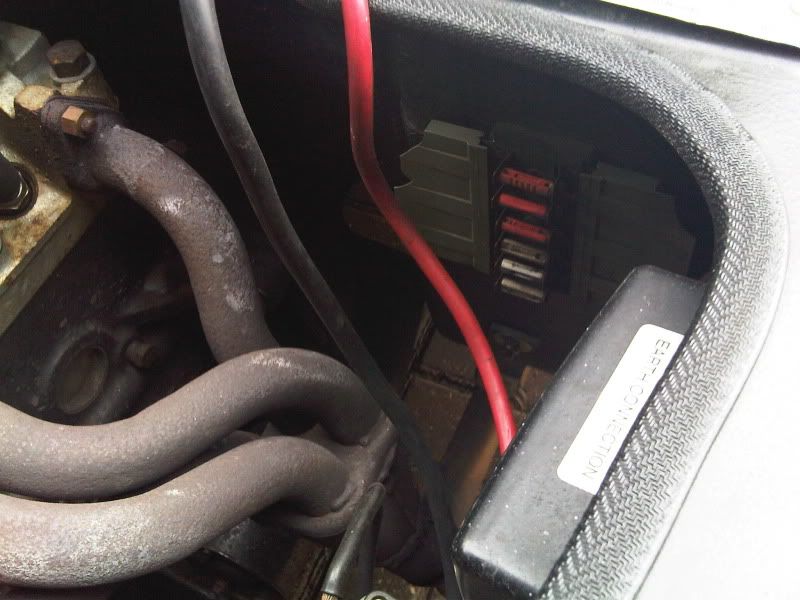 Suspension arrangement and Koni shock.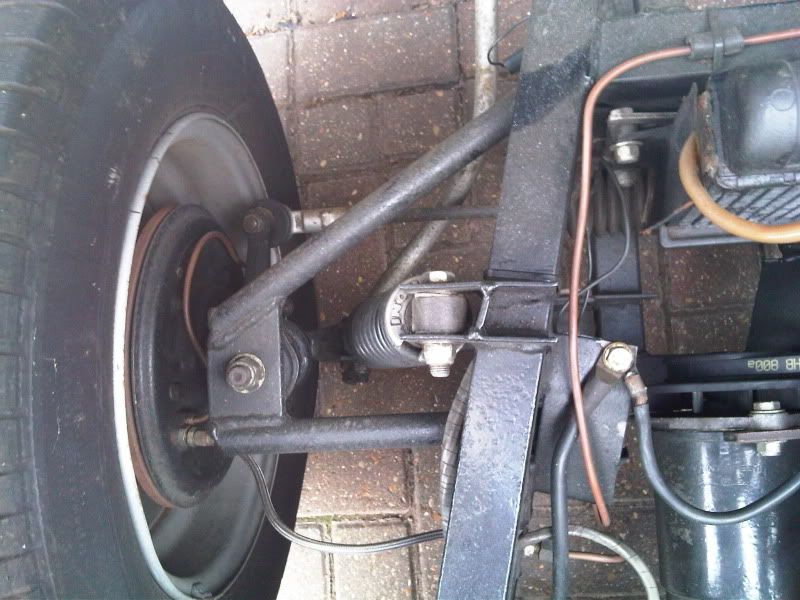 Dutton chassis number.
Adjustable looking shock. Presume I turn the bottom section to drop another cm or up another. No tool came with it to adjust though.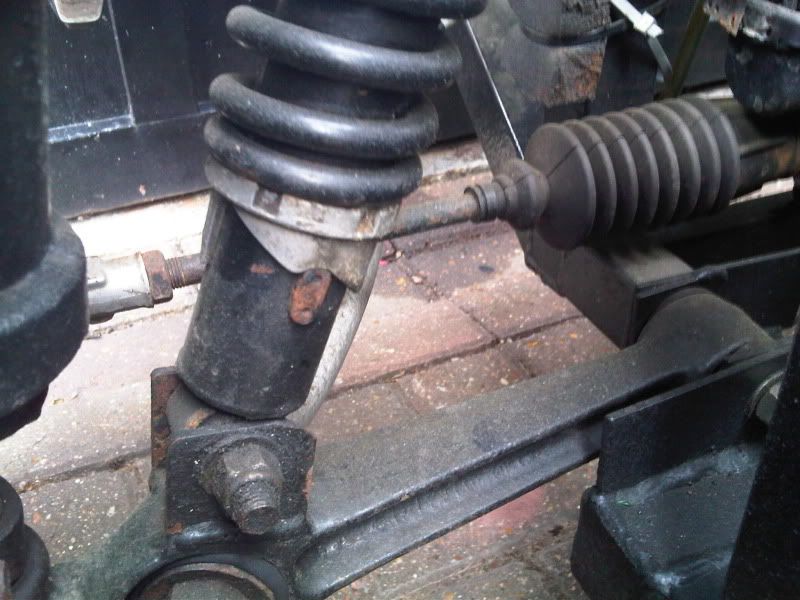 Also fitted a battery isolator from one of those broken jump start air compressor combos that litter the tips: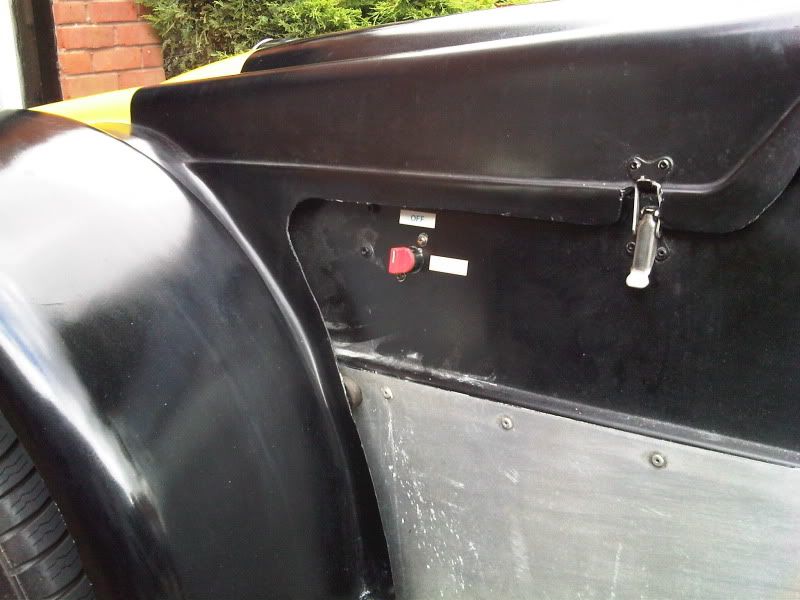 Managed to borrow a sealed beam unit off the MGB to sort the headlight, so armed with a pile of shoes and cables I had a go at sorting.
Then attempted to sort handbrake. Managed to get the drums off - TIP - if removing tight drums make sure you leave a wheel bolt on so when it goes it doesn't fly off into you!
Sadly forgot to take photos but shoes were fine. So presumed cable was stretched. Mk2 Escort one arrived but was nothing like fitted so further evidence it's a Mk1. Sadly Mk1 hadn't arrived by this time so had a poke about.
Shot of rear axle and lowering blocks fitted by previous owner. Been pointed out these are below the leaf rather than over so not actually lowering? May be to allow for use of the struts which seem possibly too long and have spring cups so could be re-used front units?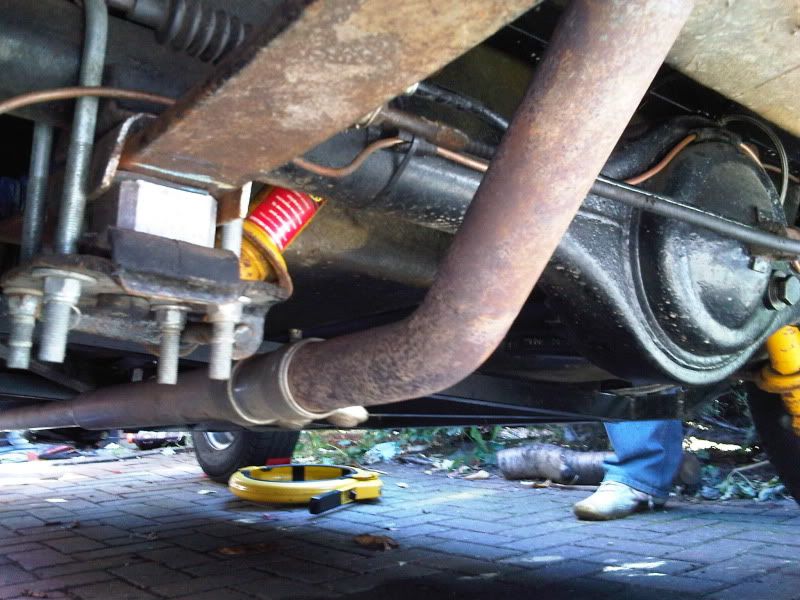 Checked the route of the cable and found the centre mount in front of the axle was via a split tube type holder. Over time this had opened and the sheath of the cable had forced it's way through hence slackening the cable (make sense?). So I removed the cable, smacked the tube closed,fed the cable back through then smack it tighter still to try and avoid a repeat. May stick a blob of weld on it if I even get my gasless mig out.
Finished result.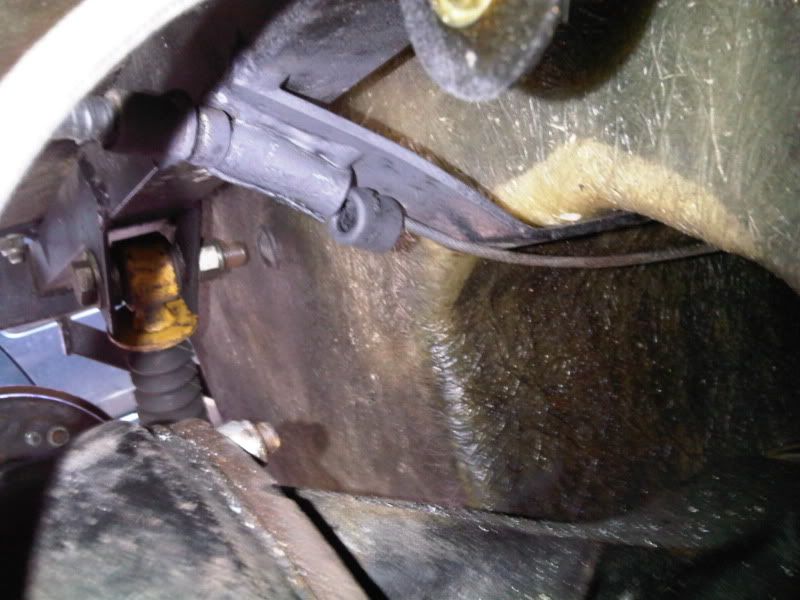 Also found evidence of a previous stripe paintjob which someone painted over but ran out of paint or enthusiasm inside the car behind seats.
Next job wasn't for MOT but for track use, my DIY tow strap.
Take one middle rear seatbelt I had from a Rover 25: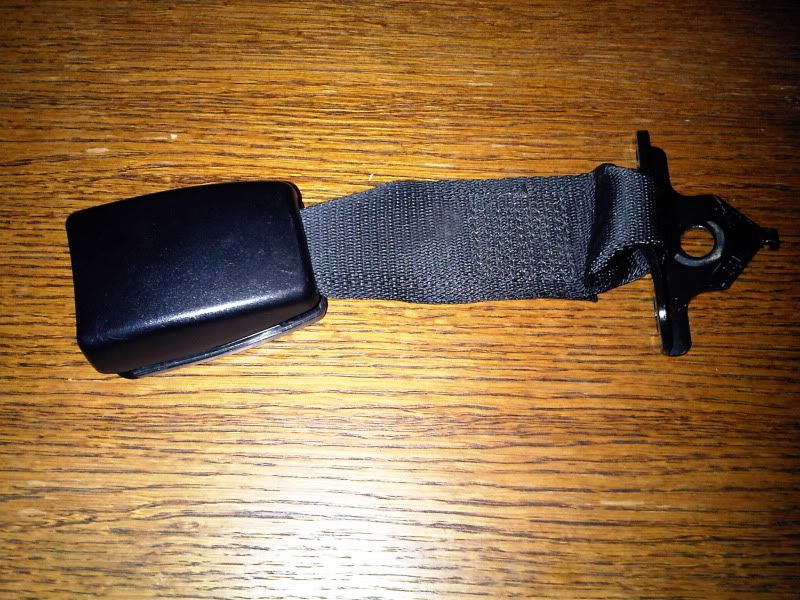 Dismantle the buckle and cut off the metal links either end (carefully to avoid cutting belt), then clamp to rear frame with spare and good exhaust clamp.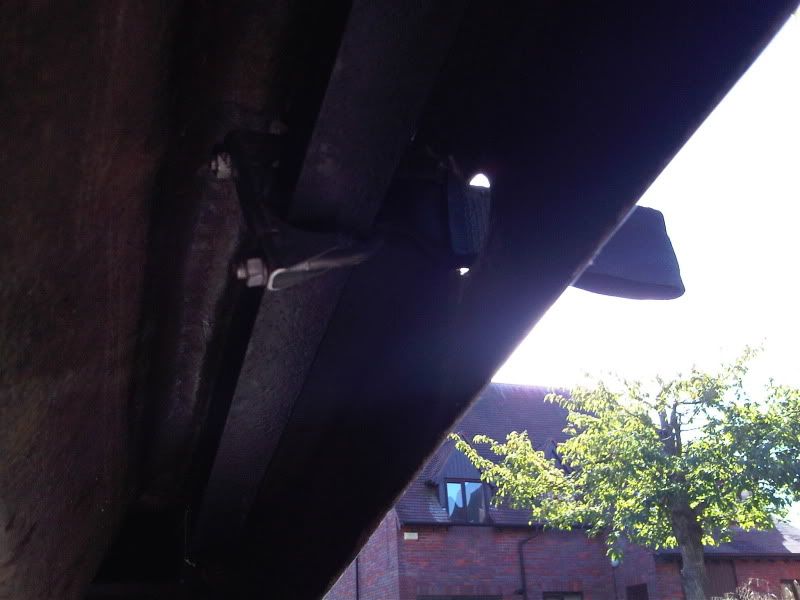 Cut hole in bumper to allow it to pass through et voila one free towing strap for track use.
After all this took back for MOT and it flew through!
Was not the most obvious fun experience driving it without roof or drivers door (since mirror precludes door fitting, it's a choice of which to have!) in the rain for the MOT but was actually a grin a minute!
Having to wipe the inside of the windscreen is a new experience as well.
Noted on way back that tacho, speedo and fuel gauge work. Oil pressure is possibly a little low (30-40?), and volts and temp gauges all read zero so will need to do some digging.
Here's our best attempt at keeping rain out whilst parked:
DIY home brew frame: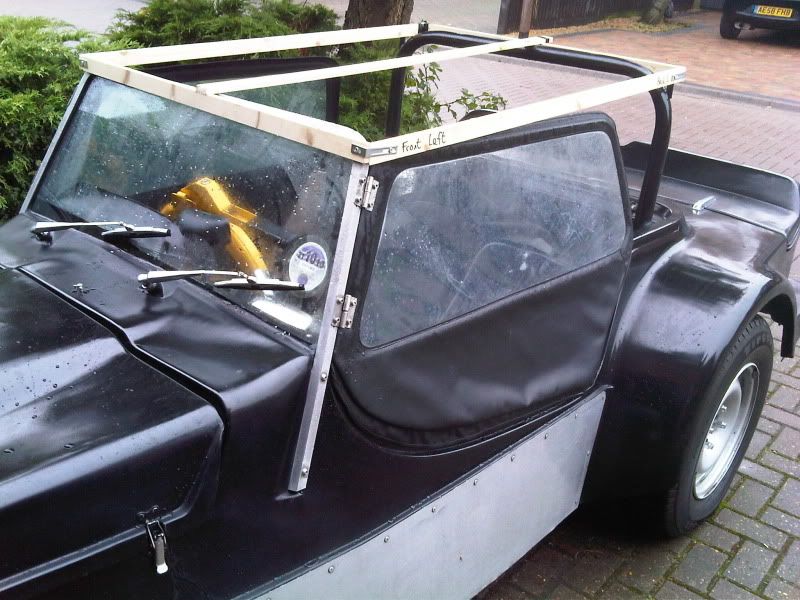 Over which we place the fabric roof held on with pegs.
Then an all-over cover over the top, finally a strap to hold in place:
Although water pools it stays mostly dry inside until we sort permanent solution.
We do have the roof but no fixing points on body yet!
Found this online which has helped with parts: