GT or Racer
I have always looked on my car as a GT in the truest sense of the word, Gran Turismo or Grand Tourer. Rather than as a racer or track day car.
Why? Well for it to be a track day car it would need to be more powerful, the tyres would need to be better quality, and the suspension would all need replacing for better adjustable units. None of which would do me much good on a day to day basis, and the track days would be only once or twice a year at most, if ever.
Don't get me wrong I like to drive big powerful cars (I used to be a mechanic for BMW and Lotus) but I know that I would eventually lose my licence if I had one as an every day car. So what engine size is my car? Ford Pinto 2.0L, a big heavy lump of about 100hp, not too powerful, and it is a little tempting to put a better engine in there, a 2.0L Zetec springs to mind. On the other hand I have had a thing for small engined sports cars, and have found that making a small car go as quick as it can is more fun than driving a big car at similar speeds. So the Zetec 1.4 looks interesting as does the 1.4 K series rover, at about 100-110hp for each engine, no worse than the Pinto and a lot lighter, but not without their problems in fitting. I would have some expense in fuelling and sparks, bell housings etc. Thus the idea is shelved as a non starter, the Pinto is staying put.
I have accepted that without a lot of money for the modifications for a track car, the car might as well be made more practical for every day use. Hence my viewing it as more of a GT. Having never had children most of my cars have been 2 seater's, and I have firm ideas of what is required for a day to day car. And on the top of the list is a heater, which even in summer can be useful when driving at night with the roof down and it gets a little chilly. All of my kit and custom cars have had heaters fitted soon after I acquired them. As has my S1 (from a Reliant Realto)
You don't have to drive a Phaeton very far in the rain to discover that a major point for water to get into the car whilst driving is under the door flaps at the lowest point of the cockpit opening. And a surprising amount of water will find itself onto your lap at this point. This has been modified on both of my Phaeton like cars (one was a Malaga B+) that I have owned and you can see that it is a simple modification to the cockpit, allowing a neat flowing ally trim to be fitted to the cockpit opening. It is made by cutting from a piece of 3/4" (17mm) plywood a small fillet of about 3-4" on the two sides against the cockpit combing and cutting the "top" into a curve. Once painted to match the car on the outside and trimmed to match the inside it looks like the car should have always been like that, and it cuts the water ingress to almost nothing. It does not hinder driver / passenger access to the car in any way.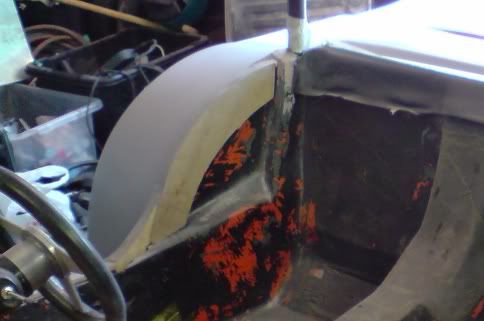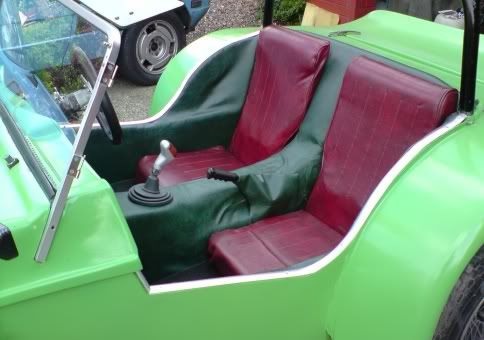 The fitting of a boot rack seemed the right thing to do for a car that I intended to take on holiday to the continent, and besides it is right for a GT. One of the things I like about owning a Phaeton is being able to have a go and make things for it. I suppose it must be possible to find a nice chrome boot rack to fit the boot, but I wanted to see if I could make a good one myself. This as it turned out was very easy to do and not too dear either. A trip to B+Q obtained four 1 meter long aluminium oblong tubes of about 25mm X 12mm section, and a single length of round tube of about 10mm diameter. The lengths of oblong tube were taped together one on top of the next and then drilled through in 4 places with a 10mm drill through which the 10mm diameter round tube was passed, having been cut into 4 equal lengths. The oblong pieces were then equally spaced and aluminium "soldered" with a blowtorch. Also at 5 places along the sides, some aluminium tabs were fixed on using the same method and these were drilled with a 6mm hole through which I could bolt the "rack" onto the boot lid. Having used some white rubber door stops also obtained from B+Q as stand off's. It works very well, being used to transport two ally wheels with tyres to a friend who bought them from me, with no damage to the boot lid, the weight being so well spread out.
I quite liked the idea of having some music in the car for the longer trips, but as you all know there is not a lot of room for a stereo. Well none if we are honest. But this did not deter me and my method to achieve a decent level of sound will no doubt be of interest. A trip to Maplins obtained two "mono" self contained amplifiers of about 25w output, an on/off switch, a stereo 3,5mm jack socket, and a dual gang variable resistor for a volume control plus a small led to indicate power "on". The amps are self contained and require no heat sinking and the controls fit with in a small area of about 60mm X 35mm, fitting two small suitably rated speakers under the dash was a little crowded but not difficult, all that is required is to plug an mp3 player into the jack plug (or a mini self scanning FM radio) and voilà, music while you drive. Except that my weed burner exhaust is quite loud and at anything above 30mph you cannot hear the music, so it will all be coming out again. But in principle it worked very well, and perhaps if I had a rear exit exhaust it would have been perfect. Maybe some of you folks out there might like to give it a go, the amps come with very simple wiring diagrams and instructions on how to wire them up. And they are very cheap to buy, the whole thing costing about 30-40 quid to fit.
Now I don't know about you folks, but my French and German whilst taken to "O" level standard is now mostly forgotten and I don't think I could make myself understood, were I to have a puncture on some continental motorway I would really struggle. So some sort of spare wheel carrier for the longer trips was required. The original position for the spare on an S1 was in front of the radiator under the bonnet, a space now occupied by the radiator as it has been mover into the nose cone to improve cooling. I don't fancy a side mounted wheel carrier, so some way of fixing it to the rear of the car was looked into. The fibreglass mouldings are really not up to supporting a spare wheel bolted to it, and would require a fair bit metalwork fabrication to make it all work. So once it was worked out what was required the idea was to make the bracket also double up as a tow bar bracket as well for when the spare wheel wasn't wanted. The Phaetons are different enough from model to model that any description of how I made and fitted the tow bar on my S1 isn't going to be fully relevant for other models but I could give details for anyone wanting to try it for themselves. But once you have a tow bar on your car it is easy to fabricate a removable bracket to support a spare wheel. The bulk of the wheels weight is taken by the tow ball bracket which is then braced by another bracket to where the number plate is normally fitted. (This is removed and fitted to the spare wheel when in use) it does I feel, look quite good on the back of the car. The other advantage of having a dual use for the tow ball bracket, is that towing brackets now come under the MOT regulations and if your MOT tester doesn't like the bracket or it's fixings in anyway he is at liberty to fail it as "insecure". However if your car was taken to the MOT with it fitted as a spare wheel carrier then its no longer testable for MOT purposes, so it is one less hassle for you to worry about.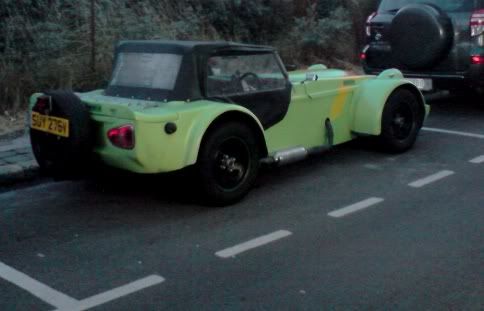 Finally having a soft top sports car means that the roof should be off as much as possible. But with the doors off anything over 40mph is very very draughty with Sandra complaining that she cannot breathe. (it does feel that your breathing in from a slight vacuum) Only when it is very hot out side will she go for drives with the doors off. With the doors on it is still very draughty but at least the tendency for the "vacuum" effect is reduced to almost nothing. I don't know about you but when driving with the roof down I like to wear a baseball cap as a mobile sun visor. But even with the doors on, at speeds above 50mph they sometimes get sucked off my head. So a screen was designed to fit between the uprights of the "roll bar", this has worked very well. The car oddly does not feel any less draughty, but the tendency for baseball caps to be sucked off my head has been halted and I haven't lost one since.
So there you have it, how I turned my car into a GT and a practical everyday car. I hope I have inspired some of you out there to make some of the same mods and make your car more usable.